We commit to providing safe and supportive environments which nurture the wellbeing of all students and staff in our community, and hold firmly to the belief that they have a right to be safe, respected and valued in an inclusive environment. We know that when students are happy, they are more engaged with their learning.
Schools benefit from wellbeing initiatives and pastoral care support through Sydney Catholic Schools – in areas such as anti-bullying, positive behaviour, student counselling, refugee support and child protection – which range from universal support for all students, to targeted interventions for students with complex social and emotional needs.
Wellbeing at Marcellin College Randwick equips students with the skills to respond to the numerous and complex challenges confronting young people and society in an ever-changing world. The college is well supported by the staff, parents, local parish and Marist communities to provide students with every opportunity to develop themselves physically, socially, intellectually, emotionally and spiritually.
The pastoral care team meets fortnightly to discuss overall pastoral programs, specific student programs and student needs.
The year coordinator holds the primary responsibility for supervising the whole education of each student in their care. They ensure that each student's experiences enable them to develop into well-rounded people.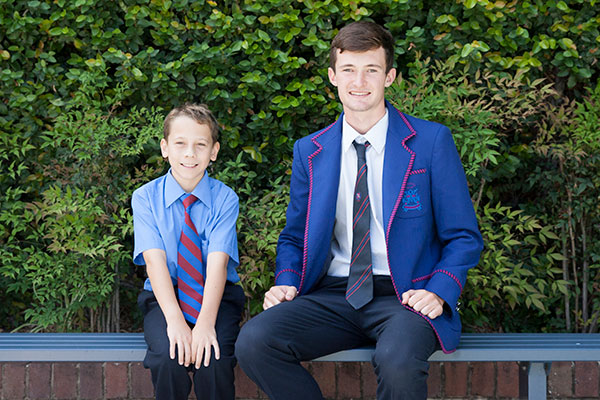 By knowing their students, the year coordinator will help them discern their special talents, rejoice in them, develop them and put them at the service of others in a community of faith on a journey towards God.
Year coordinators work in partnership with staff at the college, all of whom unite in the spirit of Marcellin Champagnat to put the student's welfare first. They also work in partnership with the student's homeroom teacher, meeting regularly with them to discuss the progress of students in each homeroom.
Fulltime College Counsellor
Full counselling services are offered through the college wellbeing team. While students are well supported by their year coordinators and homeroom teachers, they also have access to a fulltime college counsellor who works closely with our students on resilience, mental health awareness and strategies, as well as assisting with learning programs at busy times.
The college counselling service is a confidential service and runs in conjunction with the Australian student wellbeing framework initiatives. Marcellin College also seeks to support students who require more intensive support and, as such, partnerships with a range of social and mental health agencies outside of the school further reinforce the focus on wellbeing for all students and families at the college.
Sydney Catholic Schools reject all forms of bullying behaviours, including online (or cyber) bullying, by maintaining a commitment to providing safe, inclusive and respectful learning communities that promote student wellbeing for learning. Staff at Sydney Catholic Schools are committed to employing wellbeing strategies that allow for a healthy school environment where bullying is less likely to occur.
If your child is experiencing bullying of any kind, or you have a wellbeing concern, we have a number of support services available for parents/carers and students, as listed below.
Contact information for our school: 
NSW School Liaison Maroubra Police: Genevieve Howard. Senior Constable. (02) 9349 9299

College Counsellor – Mr Carl Beattie – please contact through the college front office.
Support services:
Family and Community Services Helpline: 133 627

NSW Health: (02) 9391 9000